3.0mm pixel pitch LED display, 1,100 nits brightness, 3840Hz+ refresh rate, indoor high-definition LED video screen wall
Indoor HD stadium LED video display
Slim and lightweight design for easy integration
Hermetically sealed and fanless
Simple control
Silu`s P3mm Stadium LED Video Display LED Display is particularly designed for sports events, which suits to high-definition indoor stadium applications. Its unique seamless lock system and lightweight panel design make it incredibly easy to handle and assemble.
Our P3mm stadium LED video wall screen delivers high contrast ratio, superior colour fidelity and uniformity to form the ultimate high-resolution 3mm pixel pitch HD LED video display. This P3mm indoor sports events LED screen wall display is used extensively in stadiums, sports events broadcast studios and the venues.
P3mm Stadium LED Video Display LED Module Configuration
Famous Brand Black SMD2121 LED Lamps
2 Layers 1.6mm Thickness Class-A PCB
CH2153 or MBI5153 High Refresh Driving ICs
Private Module Frame and Mask
Advanced COB LED Technology*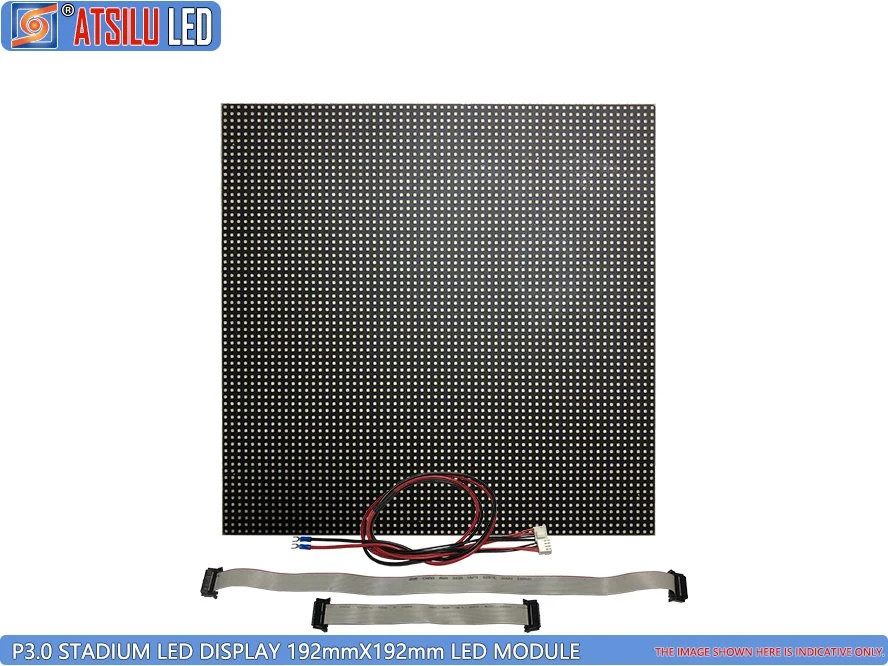 *P3mm Stadium LED Video Display LED Module Pic. 01*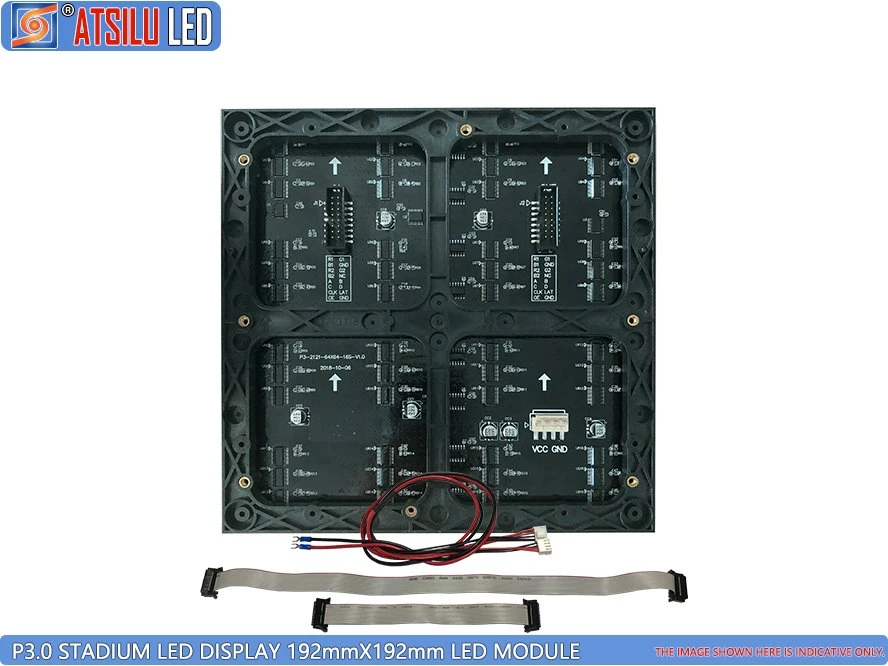 *P3mm Stadium LED Video Display LED Module Pic. 02*
P3mm Stadium LED Video Display LED Cabinet Configuration
Die-Casting Aluminum Material LED Cabinet
Meanwell Power Supply
Nova or Colorlight Receiving Card*
Pure Copper Wire Cables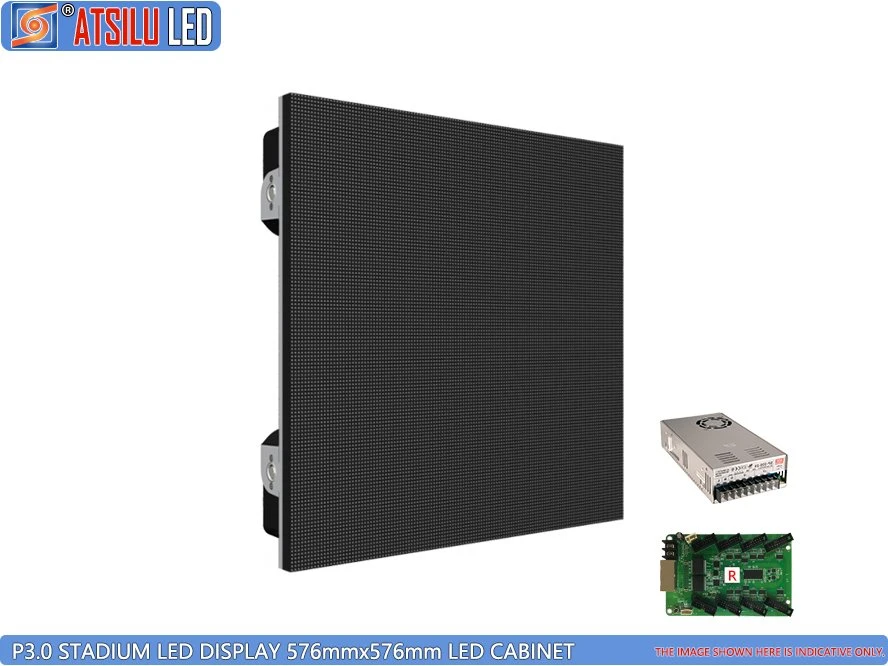 *P3mm Stadium LED Video Display LED Panel Pic. 01*
P3mm Stadium LED Video Display Description
Silu`s P3mm Stadium LED Video Display is adopting advanced COB LED Technology*, featuring die-casting aluminium LED cabinet, slim and seamless design, it can easily be integrated with the most challenging setups.
Advanced COB Technology Glue Cover Protection
COB (Chips on Board), is a new technology of LED packaging for the LED light engine. Multi LED lamps are packaged together in a PCB as one lighting LED module. When it lights up, it looks like a whole lighting panel.
Product Major Features
1. USER-FRIENDLY GUARDS: User-friendly Corner Guards are designed to protect cabinet corners and masks from unexpected bumps.
2. UNIQUE MODULE TECHNOLOGY: LED Module of integral sheet metal and injection ensure high efficient heat dissipation and make glue injection as well as IC layout more convenient. SMD Tech has successfully developed the first die-casting aluminium COB LED module and thus becoming a market pioneer in the industry.
3. RETRACTABLE HANDLE: Apart from saving much space, the retractable handle also solves the supporting problems when passed.
4. SLIMLINE & LIGHTWEIGHT (TOUGH & STRONG): P3mm comes with slimline and lightweight cabinets that are made of heavy-duty aluminium laser cut to precision. Despite being 50% lighter than most displays in this category, these cabinets are designed and built to withstand frequent handling. Coupled with robust circuitry and component assembly, they are ready to perform even in the harshest environments.
5. SEAMLESS SPLICING: Cabinets can be connected by four sets of locks in each direction, which makes truly seamless splicing possible. Lateral positioning beads and bottom positioning pins ensure flatness in each direction between the cabinets.
6. LCD SCREEN SUPPORT: LCD screens installed on the cabinets can provide rental customers with real-time information including working time, power status.
7. AUXILIARY INSTALLATION: Magnetic cabinet design contributes to fast splicing, thus sawing labour cost on installation
8. SAFETY ROPES: Safety ropes reduce falling risks in case that modules are disassembled improperly.
More Details......
Slim profile (<76mm depth) and lightweight (<11kg/panel)
High efficient power supply enables saving of more than 30% in electric bills
The superior colour performance with more than 1,100cd/m² brightness and ultra-high contrast ratio
Excellent image resolution and uniformity via Pix-Level Calibration Technology
The fanless design enables silent and maintenance-free operation
Seamless connection between panels
Hot-swappable panels support (if need)*
Wide and optimized viewing angle
P3mm Stadium LED Video Display Specification
P3mm HD Stadium LED Video Display

Pixel Pitch

3.0mm

LED Brand

Epistar or Cree or Nichia

Pixel Configuration

1R1G1B

Pixel Density

111,111 Pixels/m²

LED Module

192mm x 192mm (7.6" x 7.6")

64 pixels x 64 pixels

LED Cabinet

576mm x 576mm (22.7"x22.7") or 960mm x 960mm (37.8"x37.8")*

(192 pixels x 192 pixels or 320 pixels X 320 pixels)*

Material: Steel or Aluminum*

Steel: < 15Kg or 47Kg (< 33 Lbs or 103 Lbs)*

Aluminum: < 11Kg or 36Kg (< 24 Lbs or 79 Lbs)*

Working Voltage

AC220V±10%; AC110V±10%

Power Consumption

Average 290W/m² / Max 605W/m²

Maximum Brightness

> 1,100 cd/m²

Refresh Frequency

> 3840Hz/S

Change Frame Frequency

60Hz~ >60Hz

Drive Mode

1/16 Scanning

Total Colors

281 Trillion Colors

Grade Level

RGB 65536 Grade

Best Viewing Distance

3m~>100m (9.8ft~>328ft)

Best Viewing Angle

Horizontally 160° / Vertically 160°

Screen Lifetime

> 100,000 hours

Protection Level

Front IP43 / Rear IP31

Control System ¹

Simple LED Video Control System or Advanced LED Video Processor

Ambient Temperature

-40°C ~ 60°C (-30°F ~ 150°F)

Relative Humidity

10%~90%

Input Signal

RF S-Video RGB RGBHV YUVYC etc.

Brightness Adjustment

256 levels of each colour (RGB) can be adjusted manually and 8 levels of each colour can be adjusted automatically. Optional control system: 256 levels of each colour can be adjusted 100% automatically. (8bit / 16bit / 18bit / 24bit)

Package Material

Wooden Case / Flight Case

Warranty ³

3 Years (5 Years for Cree and Nichia)
WIFI/LAN/WAN/3G/WIMAX control system is available upon request.
The intelligent multifunctional card is available with an automatic brightness sensor to save energy including an outside temperature sensor.
Three years warranty extension program available for the high-definition P3mm Stadium LED Video Display.